'ORNAMENTAL BRIGHTNESS'
Scale: 1/10 scale (178mm or 7" figure)
Dimensions: 15" tall, 11 piecesces total
This is a model kit. It is supplied unpainted and unassembled. Parts cast in resin, base in ultracal plaster. Transparent resin is used for the water in the pool. (not included.)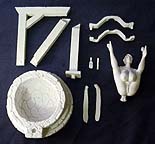 *Click on thumbnail above to view pictures.
original Urethane resin castings from a silicone mold.
Parts are fully pressure-cast in White Urethane Resin. The bases are cast in ultracal plaster. Figures are 1/10 scale. (That means the figure is approximately 178mm or 6.5-7 inches tall if it were to stand str8 up and down.)
It is 11 pieces, and is supplied unpainted and unassembled. 15" fully assembled.